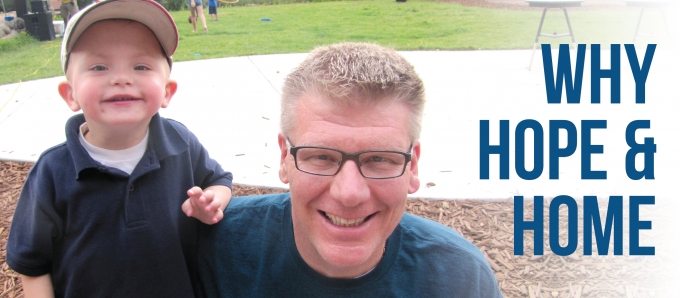 Hope & Home is the only agency that nurtures foster parents as much as foster children.

When you join Hope & Home, you become part of an entire community. Thanks to the many people who support us, over 500 donors, churches and businesses, Hope & Home provides an impressive range of activities, services and amenities simply not available at other agencies. You want to give your best to your foster children, so we want to give you the best in return! Scroll down below to see some of the other perks of being a part of the Hope & Home family.
Other Hope & Home Perks Include...
Reachable Staff
When you call Hope & Home, you will speak with a live person ready to address your needs. We also have an on-call phone that allows us to place children and handle your emergencies 24/7, seven days a week.
Hope & Home University
Our families receive the finest training for local and remote families alike. Depending on how far you are from Hope & Home's physical "hub", you can decide to take classes at our on-campus university or utilize the online training track.
Foster Care Plus
From helping you through the first few days of a child's arrival to helping sort out your paperwork, our "foster care plus" team will advocate and troubleshoot for you. It's important to us that our foster parents never feel alone.
Love to Nurture Training
Ross Wright, Hope & Home's executive director, has been working with tough kids for more than 25 years in settings ranging from psychiatric inpatient hospitals to specialized residential treatment centers to foster care homes. Ross is the author of "Kids in Crisis," from B&H Publishing, a book on how to keep your children from spinning out of control. All Hope & Home foster parents receive Love to Nurture training for free! Our gentle approach to raising kids has received praise from state officials and is just one reason why our foster parents have such successful relationships with the children they care for and, in many cases, adopt.
Adoption Support
It costs Hope & Home thousands of dollars to certify just one foster family. For this reason, some agencies prohibit their foster families from adopting any of the children they care for to prevent the families from "retiring" and quitting foster care. At Hope & Home, fully half of our families each year will "go inactive" because they have adopted and their households are complete! We celebrate every family who gives a child a "forever home" through adoption, and we honor their permanent place in our extended family.

Elaborate Holiday Parties
We always have our annual Christmas party for our kids (featuring Santa, of course!) and an elegant dinner for foster parents so Mom and Dad can enjoy a "date night" during the holidays.
Soft Lights and Beautiful Murals
Many people who come to Hope & Home do so under very difficult circumstances - whether it's a child who was just separated from their family or a couple who's suffered the heartbreak of infertility and are looking at their adoption options. We want Hope & Home to feel as comfortable as possible for those people. That's why we have intentionally designed the interior of our building to feel warm and inviting.
"Ta's Place"- Our Very Own Playground
When the summer sun is out and movie theaters just don't do the trick, we have "Ta's Place." Kids are invited to climb, slide, and run around on our giant playground.
A Modern Fitness Center
All Hope & Home staff and foster parents are invited to come use the Hope & Home gym - FREE of charge! Complete with elipticals, treadmills, weights and more, our gym is sure to meet your expectations.
The Zoondoogle Factory
Hope & Home's Zoondoogle factory is a glow-in-the-dark, elaborately decorated room where children can cash in their earned "zoondoogle" currency for toys and prizes.

Active Support Groups
Hope & Home is committed to remaining small and personal, even as we grow. Each foster parent is assigned a monthly support group through which parents advise and encourage each other. Contrast this with other foster care agencies in town, most of which are simply too small to be able to provide this vital service. We also provide state-required continuing education during support groups, eliminating the need for parents to find this 20 hours of training on their own.
Annual Hope & Home Fashion Show Fundraiser
Any child who wants to can model on the runway during our annual Fashion Show Fundraiser. More than 700 Hope & Home supporters count it the highlight of their year to come and cheer them on.

Jericho Java
During training classes and support groups our specially trained teen baristas fire up our coffeehouse-quality espresso machine and offer everything from caramel frappuccinos to lattes and smoothies--and the drinks are on us! However, we do urge that you leave a tip for our foster teens who work there.
Big-Screen TVs and a Separate Movie Theater
While children's parents may be in support group, a meeting, or touring Hope & Home for the first time, we have a movie theater to keep them entertained. We can also use our lobby television for video games if children prefer that.
The Woodsum Daniel Store
This is where brand-new comfort items such as blankets and pajamas can be "shopped for" by little ones who've had to leave behind everything they own. It is also where foster parents can go within the first 24 hours of a placement and take anything they may need.