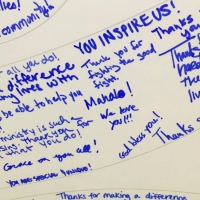 $10,000 from Compassion International!
By T.K. Wright | January 18, 2017
Compassion Donates $10,000!
Over the past year, Hope & Home has had the honor of partnering with Compassion International, a large non profit that aids impoverished children overseas. In an effort to help children locally, Compassion was looking for a children's charity to receive resources, prayers and financial support. Hope & Home has been blessed with thousands of dollars in financial support, resources, dozens of volunteers, many of whom have since become licensed foster parents with us! To mark the end of such a gracious year of partnership and service to the children of Colorado, Compassion International has gifted Hope & Home with a donation of $10,000 to continue helping the victimized children in our own backyard. Many thanks to Compassion for helping the, at times, invisible orphans of our community.
Back